Life Sciences & Chemistry
Start-up = challenge? Let's tackle it together!
Are you a founder in the field of life science and chemistry and on the lookout for financing? At HTGF, we not only offer you investment know-how, but also understand your specific needs and provide you with the right expertise to support your business ideas. We leverage our tailored network to help you achieve success.
Our Life Sciences & Chemistry team has the required start-up spirit! We have both entrepreneurial expertise and an understanding of science, medicine and practical applications. Having invested in over 200 life science and chemical companies since 2005, we know what really matters.
With our expertise and passion, we are at your side as a sparring partner from seed to exit – whether it be in the field of drug development and biotech, medtech and diagnostics, digital health, R&D tools or chemistry.
Many steps must be taken to become a successful start-up
The right tools
We offer you the right tools to meet your individual challenges as a founder of a life sciences and chemical start-up:
We help you get started
Fast and flexible seed financing
Matching with co-investors from our international network
Communication on an equal footing
Inspiration and knowledge transfer
Let's develop and grow together
Support in the acquisition of follow-up financing
Exchanges with founders and our partners from research, industry and SMEs
Close connection with cooperation partners
A shared path – from seed to exit
Support in finding the most suitable M&A advisors
Support in negotiations and due diligence
Assistance with company valuations and incentives
Transaction security from trade sale to IPO
Access to the HTGF network with many potential buyers
Who we are
What you can expect from us
From the very early stage to the exit, we support you as partners with our know-how and understanding of your needs.
We have an entrepreneurial spirit – many of us have founded our own companies and we have the necessary appetite for risk
We understand how financing works and can call on our network
We have backgrounds as scientists and know the pitfalls: manufacturing/CMC, regulatory affairs, market access, team growth, business development, etc.
The areas we invest in include:
Pharma/biotech
Medtech
R&D tools
Diagnostics
Digital health
Chemistry
Our Life Sciences & Chemistry Portfolio
Let's turn ideas into reality!
Societal challenges, such as diseases or advancing climate change, require innovative solutions. And this is why pioneering start-ups in the fields of life sciences and healthcare, chemistry, food and agricultural technology, and new materials are playing a crucial role.
Germany has the platform to continue launching successful high-tech start-ups:
Top-class research at universities and institutes
Close cooperation between industry and consumers
Transfer-enabling support
With your innovative start-up ideas, we can create sustainable and disruptive solutions together – what are we waiting for?
Looking to start a business? Contact our team here.
Is your pitch deck complete? Upload it here!
Topics that might interest you
Press
15. September 2023
Successful exit for HTGF: adivo joins Zoetis to bring the benefits of species-specific antibody therapies to pet owners worldwide
adivo's team and platform will strengthen Zoetis' capabilities in therapeutic antibody drug discovery for companion animals. High-Tech Gründerfonds (HTGF) was among the first investors in a seed round in 2018 together with OCCIDENT and MorphoSys AG and closely supported the successful development of adivo. Dr. Kathrin Ladetzki-Baehs, Founder and CEO of adivo: "I look forward to seeing what our team can achieve as part of a leading organization with global reach while continuing
Press
6. September 2023
Disruption in the field of incontinence: MedTech startup inContAlert raises EUR 1.5 million
High-Tech Gründerfonds, Bayern Kapital, Carma Fund, and renowned business angels from Germany and the UK are participating in the pre-seed financing round. The MedTech startup is developing a sensor to measure the bladder filling level for incontinence patients. The medical device is expected to be approved in early 2024. Bayreuth, 06.09.2023: The MedTech startup inContAlert, headquartered in Bayreuth, has successfully closed its pre-seed financing round of EUR 1.5 million in tot
Press
5. September 2023
Hong Kong firm invests in Jena-based Oncgnostics GmbH
Jena, September 05, 2023. The Hong Kong-based company Grande Bio-tech Co. Ltd. is making a seven-digit Euros investment in the Jena-based diagnostic company Oncgnostics GmbH. Oncgnostics has developed the cancer diagnostic Gyntect for the reliable detection of cervical cancer. Since 2022, this test has also been distributed and utilized in collaboration with a local partner in China. Following the successful launch of Oncgnostics' test in China, Grande Bio-tech Co. Ltd. has decided to make
Press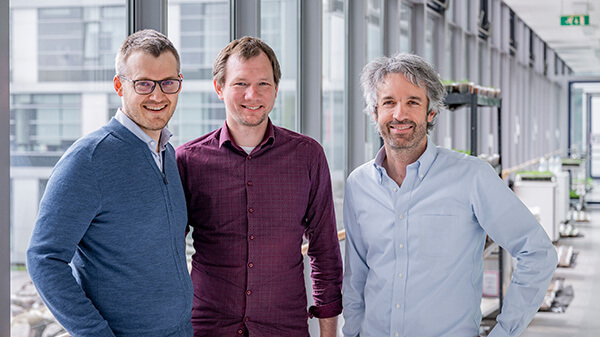 1. August 2023
Bind-X secures €10 million in financing as part of its Series B financing round
Specialist in biological binding of materials expands internationally and prepares further market entries in agriculture, mining, and infrastructure. Martinsried, 1st of August 2023 – Bind-X, a fast-growing industrial biotechnology company, has successfully closed a €10 million financing round. The funding was provided by renowned investors from Germany and abroad (HG Ventures, K&K 1, Greeneering Invest, Saxovent) and will help drive the decarbonization and biologization of establis
Press
14. July 2023
Pioneering research projects at the 8th Life Science Pitch Day at the IZB
A total of sixteen teams presented their innovative ideas to more than 50 investors at the Munich start-up center. Investors at the 8th Life Science Pitch Day (Photo: Dominik Gierke / IZB) Martinsried near Munich, July 14, 2023 – On July 13, 2023, the Munich Innovation and Start-up Center for Biotechnology (IZB) organized the 8th Life Science Pitch Day in cooperation with High-Tech Gründerfonds (HTGF), Leaps by Bayer, and Boehringer Ingelheim, which brought together sixteen biotech
Blog
18. May 2022
GWA Hygiene and Dräger: From collaboration to investment
How does a company specialized in medical and safety technology with a more than 130-year history end up getting together with a six-year-old start-up? Common goals, collaboration on an equal footing and good partners are key aspects in this regard. That is at least according to Jens Altmann, President Business Unit Data Business at Dräger, and Tobias Gebhardt, CEO at GWA Hygiene. Dräger, a global corporation, recently invested in High-Tech Gründerfonds (HTGF) portfolio company GWA Hygien