GILUPI
Exit
GILUPI GmbH is a medical device company with focus on the development and production of innovative products for the in vivo isolation of rare cells from the circulation. Currently, the main focus of GILUPI is the diagnostics market for cancer.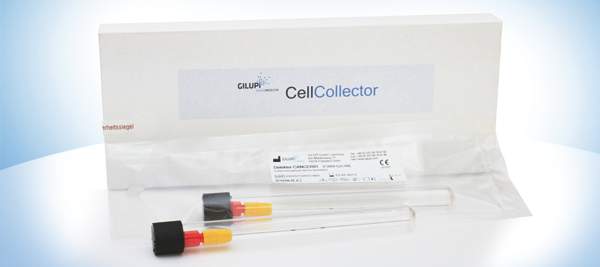 Individual oncological targeted therapies will become more and more important in tomorrow's personalized medicine. The identification of the right drug for the specific patient is the upcoming challenge. To address this medical need, the application of the GILUPI CellCollector™ enriches rare cells (circulating tumor cells- CTCs) by directly "fishing" them in the patient's bloodstream. By using special diagnostic analyses, these isolated cells can be characterized and/or analyzed at a molecular level. Thus, statements regarding the current status of the disease or/and the prognosis can be made. In addition, the physician is able to adjust the treatment immediately and optimize the therapy of the patient.
The GILUPI CellCollector™ is the first in vivo CTC isolation product worldwide with CE approval.
Press releases
Press
5. March 2013
The GILUPI GmbH is expanding to the Asian markets and received the CE-certificate for its CellCollector
The GILUPI GmbH with its headquarters in Potsdam and a subsidiary in the city of Greifswald signed a cooperation agreement with the Chinese investor Hebei Viroad Biotechnology Co., Ltd., in December 2012. The collaboration includes a license agreement for large parts of Asia. With the acquisition of shares and an investment in the GILUPI GmbH of over Euro 5 million , the development and production capacities of GILUPI in the federal states of Brandenburg and Mecklenburg-Vorpommern will be extend
Press
10. January 2011
Third round financing for GILUPI GmbH with Aurelia Private Equity, Brandenburg Capital (BFBII), KfW Bankengruppe and High-Tech Gründerfonds
GILUPI GmbH is an innovative company developing and producing medical devices for the in vivo isolation of rare cells out of the circulating blood. GILUPI will use the current financing mainly for the CE-certification and the subsequent introduction into the market of its patented medical detector. The early approval of the device according to the MPG (Medical Devices Act) is essential for achieving the economic objectives of GILUPI. New innovative products for isolating rare cells out of the
Info & Contact
Dr. Klaus Lücke
E–Mail:
Web:
Address
Am Mühlenberg 11
14476 Potsdam
In portfolio
26. May 2006 – 28. Dec 2018
Sector
Exit