Stock market launch for Mister Spex SE: Major success for early-stage investor HTGF
July 2, 2021
Mister Spex goes public 14 years after its launch: The IPO is a major success for High-Tech Gründerfonds (HTGF), which has held a stake in the eyewear company since 2008 as its first institutional investor.
With more than 1,000 employees and annual sales of EUR 164 million (2020), Mister Spex is the leading digital omnichannel eyewear brand in Europe.
Alex von Frankenberg, Managing Director of HTGF: "The IPO of Mister Spex is a fantastic achievement for the management team and founders of the company and a vital signal for Germany as a hub for start-ups. We need to see a lot more stock market launches here in Germany. This is the only way to create new, young global market leaders. For us as a seed investor, it is both an endorsement and an incentive for our continued cooperation with entrepreneurs."
---
Bonn, 2 July 2021 – Mister Spex, one of High-Tech Gründerfonds' (HTGF) most successful portfolio companies, is being launched on the stock market. HTGF has held a stake in the company since 2008, one year after it was founded, and was its first institutional investor. Mister Spex now becomes the third portfolio company of Europe's most active seed investor to be listed on the stock market.
With over 5 million customers and more than 1,000 employees, Mister Spex is the leading predominantly digital omnichannel eyewear brand in Europe. Alongside its strong online presence, the company also runs more than 40 stores. Since the start of this year, this also includes stores outside of Germany. The stock market launch will now help to further drive the company's international expansion.
HTGF as a reliable strategic partner
For HTGF, the IPO is a truly major success. High-Tech Gründerfonds invested in the eyewear brand as early as December 2008. Investment Manager and HTGF Principal Andreas Olmes immediately recognised the potential of the investment. The early trust placed in the company by HTGF supported the further development of the Mister Spex brand and subsequently led to some important commitments from additional investors.
The seed investor with representatives in Bonn and Berlin financed the company in the particularly critical early stage and supported the Mister Spex management team in its strategic decisions. A sale of HTGF's stake in the company was not up for discussion at any point in its history.
Mister Spex helping to shape the transformation of the eyewear sector
By establishing Mister Spex as a predominantly digital eyewear company that sells premium and luxury brands, independent labels and its own brand alongside selected designer and influencer collaborations, founder and Co-CEO Dirk Graber helped to transform the eyewear sector. With its large, immediately available range and transparent prices, Graber brought the advantages of online retail to the eyewear sector.
Since 2011, Mister Spex has pursued a consistent omnichannel strategy, initially through collaborations with existing stores and since 2016 with the launch of the first Mister Spex stores in Berlin.
The advantages of a consistent omnichannel strategy have also been highlighted recently during the coronavirus crisis. While the sales of the entire glasses market in 2020 fell by 8 percent in Germany and by as much as 13 percent in Europe, Mister Spex posted an 18 percent increase in the same year.
For us, the early cooperation with HTGF paved the way for the subsequent success of the Mister Spex brand. I would like to express my sincere thanks for the trust that was placed in us and the personal and professional help that we received. HTGF helped to shape the history of our company from an early stage.

Dirk Graber, founder and Co-CEO of Mister Spex
For HTGF, the IPO of Mister Spex is a great success. We have been at the company's side right from the very start and are proud to witness Mister Spex's outstanding development. Dirk Graber and his team have achieved something exceptional. The stock market launch is also a vital signal for Germany as a hub for start-ups. We need more IPOs in Germany and Europe in order to create new global leaders in the long run and to push the ecosystem even further.

Alex von Frankenberg, Managing Director at High-Tech Gründerfonds
After 10 years of professional experience in refractive laser eye surgery, it was clear to me that Dirk Graber's concept for the online retail of eyewear brands would work. We therefore took up a stake in Mister Spex in 2008 with our first pure equity investment and obviously stayed with the company for the long run. Now in its 14th year, the company's IPO in an increasingly digital world just goes to show how right and also important this early and quite controversial investment was!

Andreas Olmes, Principal at High-Tech Gründerfonds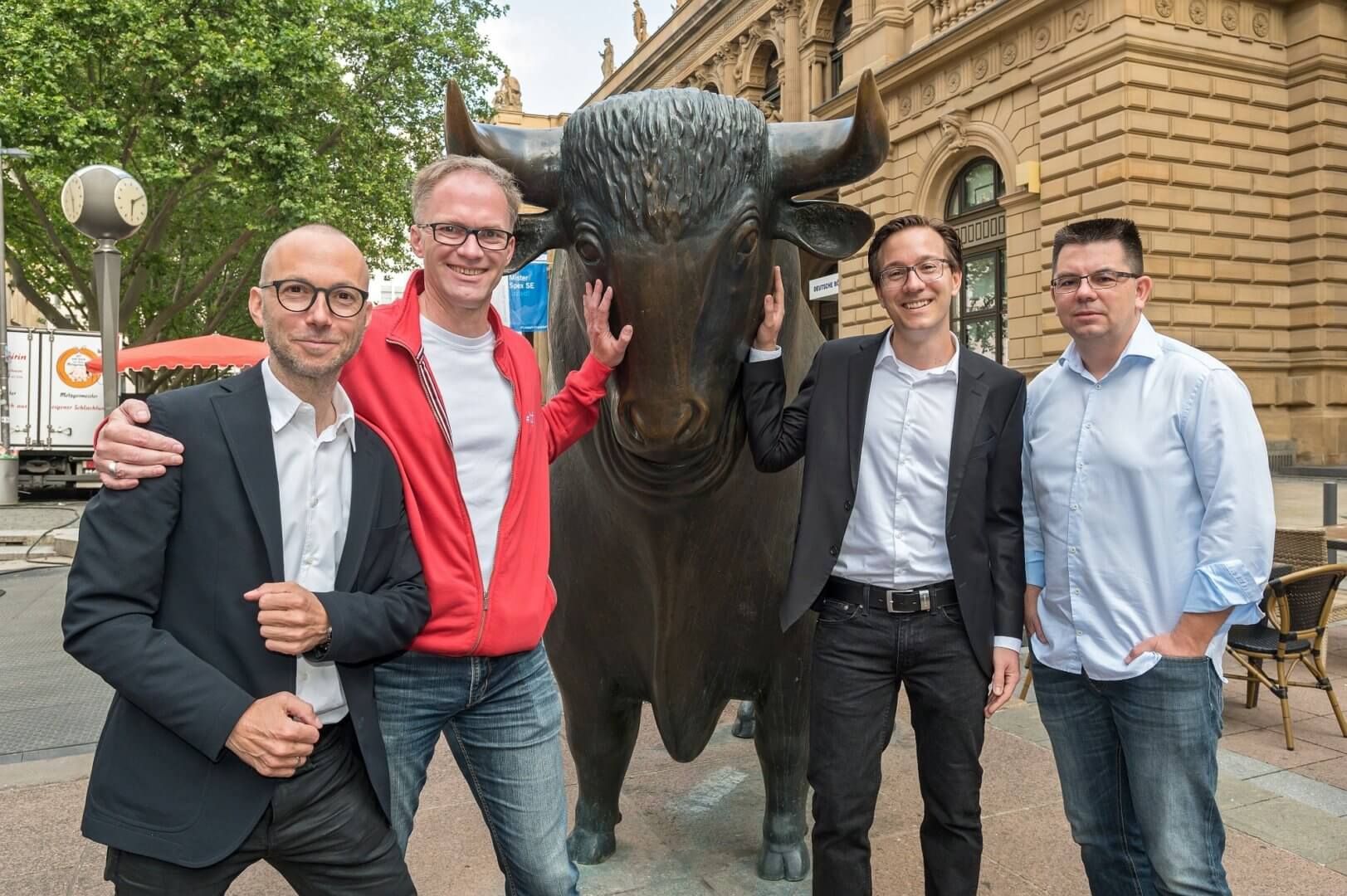 About Mister Spex
Founded in 2007, Mister Spex SE (together with its subsidiaries, "Mister Spex") is a multi-award-winning company that has become the leading digitally native omnichannel optician in Europe. Mister Spex has been at the forefront of the industry's transformational shift, growing from a pure online player into a successful omnichannel optician with more than 5 million customers, 10 online shops across Europe and physical retail stores. A digital native, technology and innovation have always been an integral part of the company's evolution, from 2D to 3D digital frame fitting tools to intelligent browsing functionalities. The focus of Mister Spex is to make eyewear purchase for customers an easy, transparent and fun shopping experience by combining a comprehensive and varied range of high-quality products with optician expertise and services through its customer service, own stores and an extensive network of partner opticians.
About High-Tech Gründerfonds
High-Tech Gründerfonds (HTGF) is a seed investor that finances high-potential, tech-driven start-ups. With around EUR 900 million in total investment volume across three funds and an international network of partners, HTGF has already helped forge more than 600 start-ups since 2005. Driven by their expertise, entrepreneurial spirit and passion, its team of experienced investment managers and startup experts help guide the development of young companies. HTGF's focus is on high-tech start-ups in the fields of digital tech, industrial technology, life sciences, chemistry and related business areas. To date, external investors have injected more than EUR 3 billion into the HTGF portfolio via more than 1,700 follow-on financing rounds. HTGF has also successfully sold interests in more than 130 companies.
Investors in this public-private partnership include the Federal Ministry For Economic Affairs and Energy, KfW Capital, and Fraunhofer-Gesellschaft e.V., as well as the companies ALTANA, BASF, BAYER, B.Braun, Boehringer Ingelheim, Robert Bosch, BÜFA, CEWE, Deutsche Bank, Deutsche Post DHL, Dräger, 1+1 AG, EVONIK, EWE AG, FOND OF, Haniel, Hettich, Knauf, Körber, LANXESS, media + more venture Beteiligungs GmbH & Co. KG, PHOENIX CONTACT, QIAGEN, RWE Generation SE, SAP, Schufa, Schwarz Gruppe, STIHL, Thüga, Vector Informatik, WACKER and Wilh. Werhahn KG. www.htgf.de/en
Media Contact
High-Tech Gründerfonds Management GmbH
Stefanie Grüter, Head of Marketing & Communications
T.: +49 228 82300 188
s.grueter@htgf.de
Contact for Investors
High-Tech Gründerfonds Management GmbH
Andreas Olmes, Principal
T.: +49 228 82300 108
a.olmes@htgf.d