Pitch & Pinot #ArtificialIntelligence
12.12.2023
ab 17:00 Uhr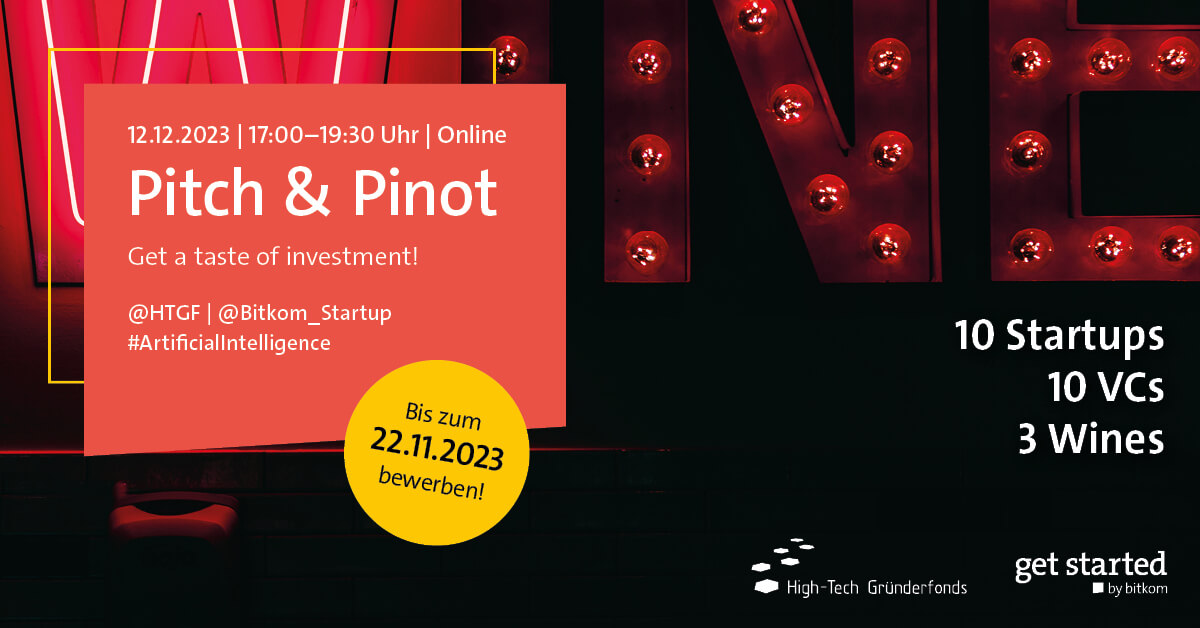 You have an innovative startup in the field of #ArtificialIntelligence and are looking for investors? Then apply now for our "Pitch & Pinot" powered by Get Started & High Tech Gründerfonds! Get to know ten investors and three delicious wines remotely and in a relaxed atmosphere. All you have to do is upload your pitch deck – and with a little luck, you'll be one of ten selected startups at our "Pinot & Pitch" on Tuesday, December 12, 2023, starting at 5:00 pm! Each startup will have three minutes for their pitch. In between, the three wines will be presented and tasted together.
The most important at a glance:
When: 12.12.2023, from 5 p.m. – approx. 7.30 p.m.
Where: At your home or in the digital room (access link follows after registration)
Application deadline: 22.11.2023
Our guests: 10 startups, 10 investors, 1 sommelier.
Joining us are, among others: HTGF
Focus: Artificial Intelligence
Funding sought: 0.5-5 million euros
Winecentive: each guest will receive a package of 3 wines from us in advance.
Pitch & Pinot is an invite-only event: you apply and then we will let you know if you are included. Please understand that due to the exclusivity of the event we cannot consider all startups. In total, there will be a maximum of ten startups and ten investors, and each one will receive the Winecentive at home or in the company.
Info
Date: 12.12.2023
Duration: ab 17:00 Uhr