Virtual Pitch Feedback Session for Biotech, Pharma and Life Science Start-Ups
14.01.2022
10:00AM - 11:00AM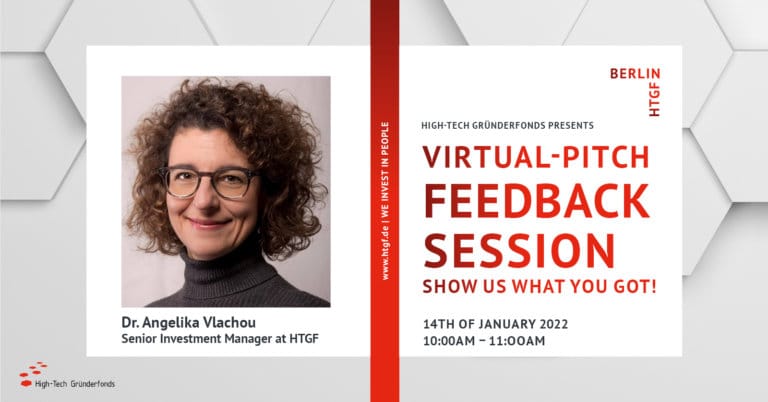 Dr. Angelika Vlachou has been investing venture capital in biotech, pharma and life science start-ups for more than 10 years. Over the course of her career, she has managed many transactions ranging from seed-stage venture capital and growth financing to licensing agreements, trade sale transactions and IPOs. Her expertise is also based on her virology-molecular biology research experience. One of her strengths is to combine scientific innovation with commercial potential. She is a valued sparring partner for founders, investors and stakeholders. With a doctorate in biology, she started her professional career in investment banking.
Join our 1:1 pitch session and get early feedback on your 5-minute pitch. You can ask all questions you might have, such as:
• What information is most relevant for an investor?
• How to present information appropriately?
• How to improve presentation skills?
To book a slot, please:
– register to the event: https://forms.gle/mgebgF8eyfCb1eq86
– use the video call link (Microsoft Teams) we will send you 1 or 2 days prior to the event.
++ First come, first served ++
High-Tech Gründerfonds (HTGF) is Europe's most active seed stage investor for highly innovative technologies across all sectors with a total
of around 900 million euros under management in three fund generations. We invest in people, provide them with venture capital to implement their high-tech ideas and innovative business models. Investing in high-tech start-ups is our passion. We understand our role in the start-up eco system by providing capital but also know-how and networks, especially in the early stages of a company´s development.
We look forward to meeting you!
Your HTGF Berlin Team
Info
Date: 14.01.2022
Duration: 10:00AM - 11:00AM