ChromoTek
Exit
ChromoTek products set new benchmarks for cellular research. ChromoTek develops and markets Chromobody®-based live cell assays for drug screening and target validation. Other products include immunological and bioimaging reagents such as the GFP-Trap® for the rapid pull-down of GFP fusion proteins and GFP/ RFP Booster to amplify the fluorescent signal of GFP or RFP fusion proteins. ChromoTek's fluorescence based protein-protein interaction assay, called Fluorescence-2-Hybrid (F2H), is available as screening service for commercial customers and as off the shelf kit for academic research. More than 4,500 customers from all over the world trust in ChromoTek products.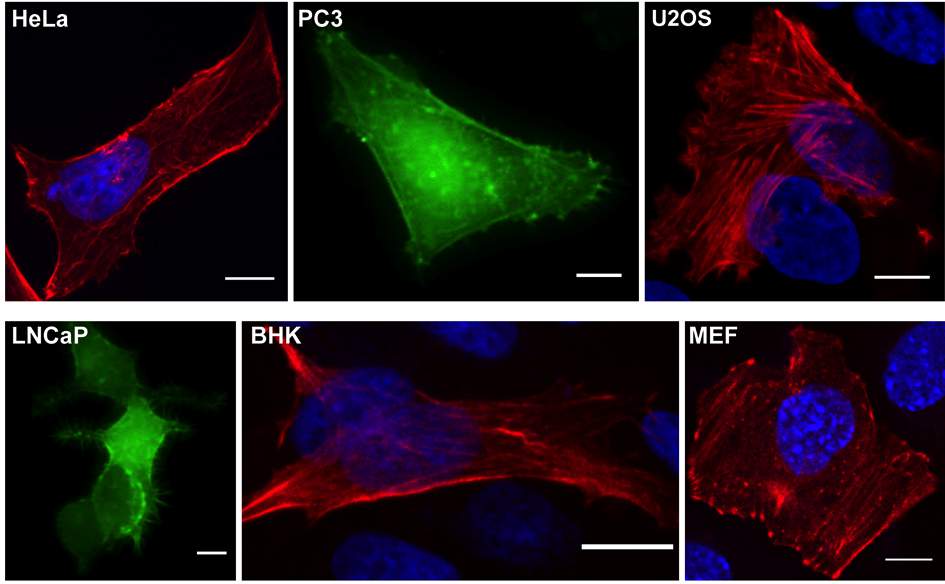 Actin Chromobody visualizes cytoskeletal microfilaments in different cell types derived from human, mouse and hamster.

Lamin Chromobody highlights nuclear lamin in live cells and enables monitoring of cellular fate over hours for high-content analysis and drug discovery.
Press releases
Press
20. October 2020
Successful exit for High-Tech Gründerfonds and Bayern Kapital –
Proteintech acquires ChromoTek
Proteintech, which is based in Chicago, Illinois, USA, is the benchmark in antibodiesMartinsried-based startup ChromoTek is a market leader in nanobodiesThe acquisition enables Proteintech to expand its next-generation antibody toolsBayern Kapital and HTGF arranged the seed financing in 2010The transaction marks HTGF's 10th successful exit during the coronavirus crisis High-Tech Gründerfonds and Bayern Kapital have sold their shares in ChromoTek after having spent 10 years at the start
Press
14. July 2010
Capital for fluorescent mini-antibodies – new benchmarks in cell research
High-Tech Gründerfonds and Bayern Kapital are investing about EUR 400k in Chromotek GmbH. The investment is intended to fund research and development work aimed at ensuring successful market entry for chromobody technology in the field of living cell analysis. Chromotek GmbH, an enterprise spun off from the Ludwig Maximilian University in Munich, develops and distributes chromobody technology-based research reagents that can be used in multiple ways and are reliable; namely nanotraps and chr
Address
Am Klopferspitz 19
82152 Planegg-Martinsried

400 Oser Ave Ste 1650
Hauppauge, NY 11788
USA
In portfolio
27. Apr 2010 – 09. Oct 2020
Sector
Exit