Lophius Biosciences
Lophius Biosciences GmbH is a privately-held biotech company specialized on the development and marketing of innovative T cell-based research tools, contract research solutions and diagnostics using the ELISpot technology for the functional assessment of pathogen-reactive T cells.
Lophius' experts provide a comprehensive range of services from antigen selection and optimization to immune assay development and therapy monitoring under ISO 9001 quality standards. The continuously expanding portfolio of research tools supports highly standardized and convenient experimental procedures in clinical laboratories.
Combined with Lophius' immunological expertise to develop diagnostic systems, the company has proven its capabilities by the development and launch of the CE-marked in vitro diagnostic solution T-Track® CMV. Produced in compliance with ISO 13485 quality standards, T-Track® CMV is intended to optimize CMV therapy management in transplant patients.
Management
Dr. Robert Phelps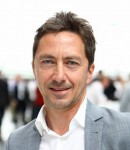 Robert has over 15 years of business development and licensing experience in the biopharmaceutical industry and holds the Certified Licensing Professional (CLP) credentials. At Lophius he is particularly responsible for technical operations, research and development, and clinical trials.
In his most recent role at SuppreMol GmbH in Munich, he was responsible for the strategic partnering with pharma and biotech companies that ultimately resulted in the EUR 200 M acquisition by Baxalta.
Bernd Merkl
Bernd has more than 15 years of professional experience in the biotechnology industry and a successful track record in the management of fast growing businesses. At Lophius he is in charge of all commercial operations including sales, marketing and product management.
Prior to joining Lophius he held a number of different positions at GeneArt AG and Life Technologies/Thermo Fisher Scientific. Bernd served as Member of the Management Board and Chief Business Officer at GeneArt and since 2012, after the acquisition of GeneArt by Life Technologies/Thermo Fisher Scientific, he managed the GeneArt Centre of Excellence for Synthetic Biology in Regensburg as site leader with more than 280 employees.
Pressemeldungen
The High-Tech Gründerfonds Portfoliocompany Lophius Biosciences Secures EUR 2,0 Million Financing and Announces Leadership Changes
Lophius Biosciences GmbH, a privately held biotech company focusing on the development and marketing of innovative T cell based research tools and diagnostic systems for functional assessment of disease-reactive T cells, today announced that the company has secured a EUR 2,0 Million financing round. This financing…
Lophius Biosciences closes additional financing round with current investors totaling 1.4 million EUR
Lophius Biosciences, a leading developer of novel, innovative T-cell-based diagnostic test systems, announced today closing  of an additional financing round totaling 1.4 million EUR. All current financial investors, such as S-Refit, High-Tech Gründerfonds (HTGF) as well as Bayernkapital participated in this…
LOPHIUS closed 2nd financing round and appoints Dr. Michael Lutz as new CEO
Lophius Biosciences announced today that the company has successfully closed a 2nd round financing with a value of around 1,6 m EUR. The investment of S-Refit, the new lead investor, is strongly supplemented by follow up investments from existing investors High-Tech Gruenderfonds and Bayernkapital. The financing will…
High-Tech Gründerfonds and Bayern Kapital invest in Lophius Biosciences
Regensburg-based biotech company to receive 600,000 euros venture capital for the development of novel diagnostic tools to detect infectious and autoimmune diseases Lophius Biosciences GmbH (Regensburg) has successfully closed its first financing round. High-Tech Gründerfonds (Bonn, Germany) and Bayern Kapital…
Address
Am BioPark 13
93053 Regensburg
In portfolio
30. Apr 2008
Sector
HTGF Manager