Immunic Therapeutics is a clinical-stage biotech company with a pipeline of selective oral immunology therapies aimed at treating chronic inflammatory and autoimmune diseases. Immunic, Inc. is headquartered in New York. Its subsidiary, Immunic AG, is based in Graefelfing near Munich, Germany, where the company's research and development activities are conducted. Additional subsidiaries are located in Halle/Saale, Germany, and Melbourne, Australia.
Immunic is developing three small molecule products: lead development program, IMU-838, is a selective immune modulator that inhibits the intracellular metabolism of activated immune cells by blocking the enzyme DHODH; IMU-935 is an inverse agonist of RORγt; and IMU-856 targets the restoration of the intestinal barrier function. IMU-838 is in phase 2 clinical development for COVID-19, relapsing-remitting multiple sclerosis, ulcerative colitis and, in collaboration with the Mayo Clinic, primary sclerosing cholangitis.
Management
Dr. Manfred Groeppel
Dr. Manfred Gröppel joined Immunic in April 2016. As part of the senior management team, he has been serving as Chief Operating Officer and, until April 2019, acting Chief Financial Officer, leading functional responsibility for accounting, finance, risk management and legal. From April 2016 to December 2016, he served as Immunic's interim Chief Executive Officer.
Previously, he was Head of Business Development at 4SC AG, where he managed worldwide business development activities since 2001 and served as project leader of the development team for IMU-838. Prior to joining 4SC, Dr. Gröppel held various positions at Tripos Inc., where he managed business development activities in Central and South Europe, Scandinavia and Israel. He also worked at the Research Center Siemens from 1994 to 1997.
Dr. Gröppel brings to Immunic more than 18 years of business development leadership and a strong scientific background in drug discovery, product development, manufacturing processes, chemistry, manufacturing and controls (CMC) and project valuation. Dr. Gröppel's successful track record of licensing transactions in the healthcare industry, worldwide, totals more than 300 million USD and includes Yakult Honsha's acquisition of resminostat, Link Health's acquisition of 4SC-205, out-licensing the APAC rights for resminostat to Menarini, and the acquisition of eight oncology projects from Altana. Recently, he successfully negotiated an option and licensing agreement for Immunic's IMU-856 with Daiichi Sankyo.
Dr. Gröppel studied chemistry at the University Erlangen-Nuremberg, Germany and received his doctorate in chemistry from the Institute of Organic Chemistry, University Erlangen-Nuremberg.
He has been a guest speaker at several national and international conferences and has been awarded several patents related to IMU-838.
Dr. Andreas Muehler
Andreas Muehler, M.D., M.B.A., joined Immunic in August 2016. He has more than 25 years of leadership experience in the U.S. and European pharmaceutical industry, with an emphasis on preclinical and clinical development, business development and licensing, private equity, as well as marketing.
From 2009 until joining Immunic, Dr. Muehler was an independent medical consultant, working on assignments in the U.S. and in Germany. During this time, he served in key interim leadership roles at a number of pharmaceutical and medical device companies. As such, Dr. Muehler was responsible for overseeing large clinical oncology trials, including the pivotal trials leading up to the launch of newly approved pharmaceuticals for inflammatory bowel disease, Vedolizumab and Budesonide MMX.
In 2009, Dr. Muehler also was a Managing Director of Palladius Healthcare GmbH, a Munich-based healthcare private equity fund. Prior to this, he served at the helm of several U.S. based companies. Specifically, Dr. Muehler was President and Chief Executive Officer of medical device start-up, MicroMRI, Inc. and President of medical device company, 3TP LLC (d/b/a CAD Sciences), which he subsequently sold to iCAD Medical in 2006. Dr. Muehler also served as Chief Executive Officer and Vice President, Corporate Development at Cellectar Inc., a developer of cancer therapeutics and imaging agents. Earlier in his career, Dr. Muehler served in a number of key positions at the mid-sized, U.S.-based pharmaceutical company Berlex Laboratories, where his roles spanned preclinical and clinical development, business development, as well as licensing and marketing.
Dr. Muehler received an M.D. from Humboldt-University in Berlin, Germany, and an M.B.A. from Duke University in Durham, North Carolina. Dr. Muehler has served on the Board of Directors of multiple emerging medical technology companies, is the co-inventor of more than 20 patents and is the author or co-author of more than 70 publications in peer-reviewed journals.
Dr. Daniel Vitt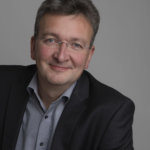 Daniel Vitt, Ph.D., joined Immunic in January 2017. Previously, he was Chief Scientific Officer and Chief Development Officer of 4SC AG, a publicly traded company based in Germany that he co-founded in 1997. During his time at 4SC, Dr. Vitt was responsible for all research and development activities and successfully grew the company from the research stage into an advanced therapeutic development company with several clinical-stage product candidates in the pipeline, addressing autoimmune, oncology and infectious diseases. Among these were resminostat, domatinostat and vidofludimus. In 2005, Dr. Vitt took 4SC AG public on the Frankfurt stock exchange.
During his tenure, Dr. Vitt also successfully negotiated and executed several key research and licensing agreements with biotechnology and pharmaceutical companies including Sanofi, LEO Pharma, Yakult Honsha Co., Ltd., Schwarz Pharma and BioNTech AG.
Dr. Vitt studied chemistry in Siegen and Würzburg, Germany, and graduated from the University of Würzburg, where he focused on quantum-chemical calculations of organic reactions. He received his Ph.D. from the Institute of Organic Chemistry at the University of Würzburg, where he focused on molecular design of small molecule therapeutics.
Dr. Vitt is currently a member of the supervisory board of Quattro Research GmbH, a software solutions provider for life science and chemistry applications, located in Planegg, Germany.
Dr. Hella Kohlhof
Dr. Hella Kohlhof joined Immunic in January 2017 from 4SC AG, a publicly listed German biotech company where she was responsible for the management of the clinical product portfolio. Dr. Kohlhof also serves as Managing Director of Immunic's research subsidiary, Immunic Research GmbH, Halle (Saale). She brings to Immunic a very strong scientific background in the immunology and oncology field and is experienced in drug development, preclinical and translational pharmacology.
In 2008, Dr. Kohlhof joined 4SC AG as a research scientist and group leader and established the research laboratory for translational pharmacology. She worked on 4SC's preclinical and clinical stage projects including IMU-838 and IMU-935. From 2011 to 2015, Dr. Kohlhof was responsible for the management and development of 4SC's epigenetic clinical stage small molecule inhibitor 4SC-202. In 2015, Dr. Kohlhof was named Director, Development Projects, and assumed responsibility for the entire product development pipeline of 4SC including clinical trial design and biomarker development.
Dr. Kohlhof studied biology in Aachen and Munich, Germany, and Gothenburg, Sweden, and received her doctorate in biology from the Ludwig Maximilians University of Munich. She performed her post doctorate work at the Institute of Clinical Molecular Biology and Tumor Genetics at the Helmholtz Centre in Munich, where she worked on normal and malignant B cell development influenced by Notch and Epstein Barr Virus mediated signaling.
Dr. Kohlhof has been awarded several patents and is co-author of several scientific publications. She is a frequent guest speaker at scientific and industry conferences.
Pressemeldungen
Immunic AG Awarded Research Grant by German Federal Ministry of Education and Research in Support of the InnoMuNiCH Project
Immunic, Inc. (Nasdaq: IMUX), a clinical-stage biopharmaceutical company focused on developing potentially best-in-class, oral therapies for the treatment of chronic inflammatory and autoimmune diseases, today announced that the German Federal Ministry of Education and Research has awarded its subsidiary, Immunic AG,…
The Gap in the Value Chain of Funding Start-ups is Moving Forward
This is what usually happens. You take your car and go to the Mediterranean for your holidays. You prepare everything but you don't think about the fuel your car needs to reach your destination. Although it's clear that your car needs additional fuel on the way, you are sure…
High-Tech Gründerfonds portfolio company Immunic Therapeutics to trade on NASDAQ
Reverse takeover enables Immunic to secure US listing on world's largest electronic stock exchange Existing Immunic investors invested a further EUR 26.7 million as part of NASDAQ listing Founded in Bavaria, Germany, in 2016, the biotech start-up develops novel treatments for…
Immunic successfully closes 17.5 million Euro Series A financing round
Immunic AG (Immunic), a recently formed private start-up biotech company in Planegg-Martinsried near Munich, Germany, today announced that it has closed its Series A financing round totaling EUR 17.5 million of preferred stock financing. The financing round was led by Life Sciences Partners V Coöperatief U.A. (LSP,…
Address
Lochhamer Schlag 21
82166 Graefelfing
Germany
In portfolio
10. Aug 2016
Sector
HTGF Manager
IPO