Pitch & Pinot #HealthTech
13.09.2023
ab 17:00 Uhr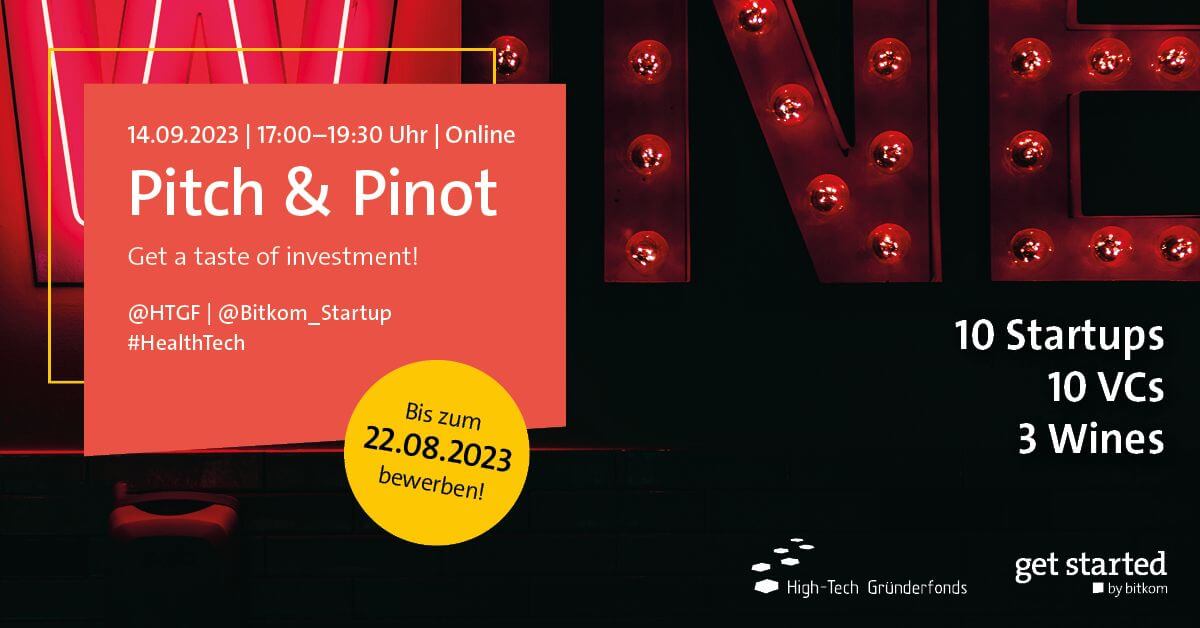 You have an innovative startup in the field of #HealthTech and are looking for investors? Then apply now for our "Pitch & Pinot" powered by Get Started & High Tech Gründerfonds! Get to know ten investors and three delicious wines remotely and in a relaxed atmosphere. All you have to do is upload your pitch deck – and with a little luck, you'll be one of ten selected startups at our "Pinot & Pitch" on Wednesday, September 13, 2023, starting at 5:00 pm! Each startup will have three minutes for their pitch. In between, the three wines will be presented and tasted together.
The most important at a glance:
When: 13.09.2023, from 5 p.m. – approx. 7.30 p.m.
Where: At your home or in the digital room (access link follows after registration)
Application deadline: 22.08.2023
Our guests: 10 startups, 10 investors, 1 sommelier.
Joining us will be: Katharina Severin from HTGF.
Focus: Health Tech with focus on Digital Health and MedTech
Funding sought: 0.5-5 million euros
Winecentive: each guest will receive a package of 3 wines from us in advance.
Pitch & Pinot is an invite-only event: you apply and then we'll let you know if you're in. Please understand that due to the exclusivity of the event we cannot consider all startups. In total, a maximum of ten startups and ten investors will be present and each one will receive the Winecentive at home or in the company.
Info
Date: 13.09.2023
Duration: ab 17:00 Uhr